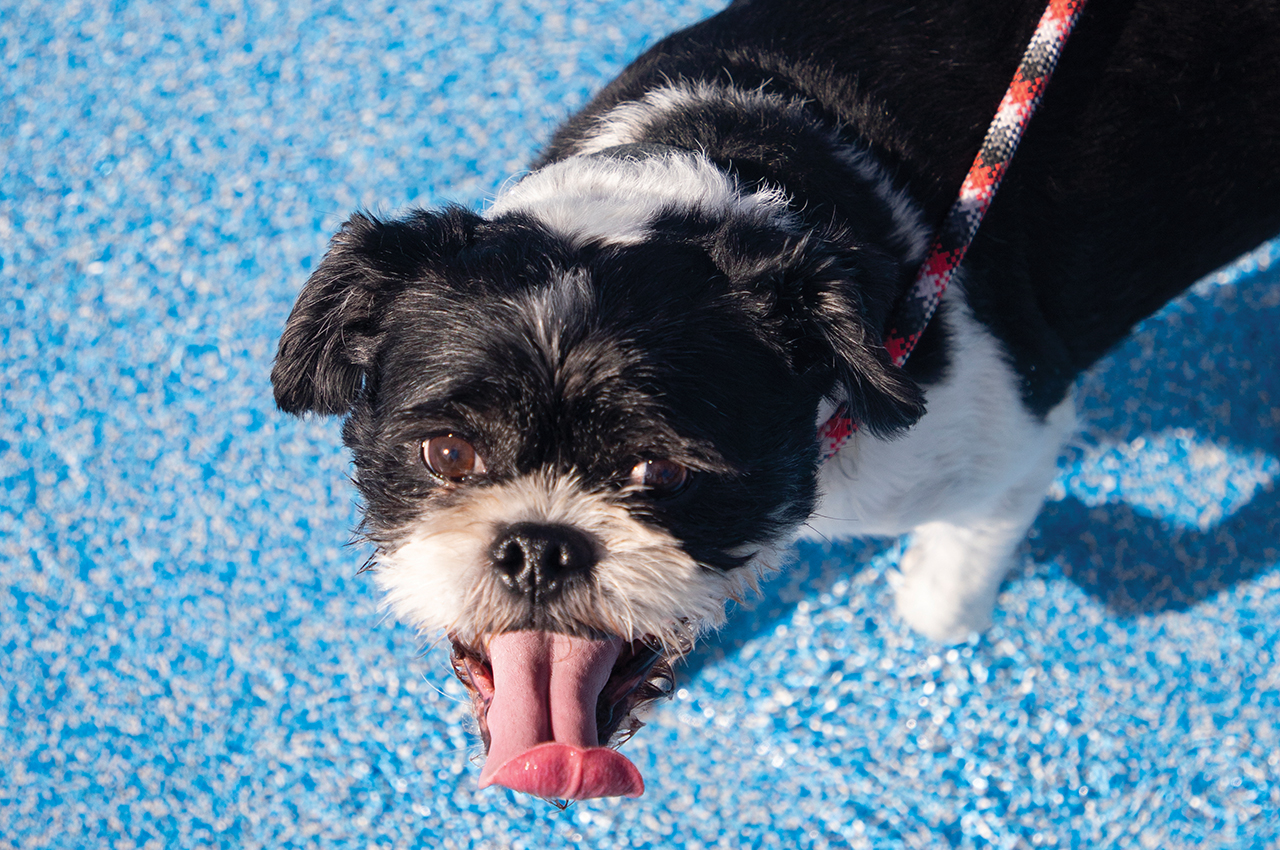 Fetching Destinations
Pictured above: Elvis, Shih Tzu mix
Writer: Beth Eslinger
Photographer: Emily Kestel
We put our noses to the ground to sniff out how and where Des Moines dogs and their humans live their best lives. We found fetching outdoor play spots, miles of trails to explore on foot and paw, and the best doggone farmers market in the country. Turns out, Central Iowa is a pooch's paradise.
P.D. Eastman's classic children's book "Go, Dog. Go!" comes to life every Saturday morning at the Downtown Farmers' Market. You'll find big dogs, little dogs, dogs in hats, dogs in strollers and dogs in costumes among the throngs of shoppers. The market reopens this month, so it's a good time for you and your pooch to start to a new routine.
Beyond downtown, other markets, businesses and shops throughout the metro area are popular destinations for dogs — and dog-watching.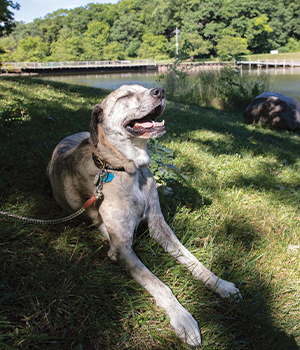 George, Great Pyrenees mix
New Watering Hole
Paws & Pints opened in August and is the ultimate entertainment destination for canines and their human companions. True to its name, it has more than 20,000 square feet for dogs to roam, plus multiple bars and TVs, Wi-Fi and live music. Both species can play indoors and out, weather permitting.
As soon as you enter the dog park past the reception desk, several snouts come up to say hello. What's a better greeting than that? From there, leashes come off and the fun begins. While guests agree to keep an eye on their own pets, attendants also monitor the dog zones for unaccounted accidents or excessive ruff-housing.
The indoor dog space has a jumbo flat-screen TV perfect for watching big games during any season. Several other TVs line the indoor and outdoor bar areas, which are kept dog-free to avoid snacks from being snatched. While your pups run around with their friends, gather your own around a plate of carne asada nachos or truffle fries. There are 20 beers on tap and various craft cocktails, including a "Bloodhound Mary" for brunch.
If your hounds are hungry, not a problem. They get their very own menu of hearty snacks and not a whiff of boring kibble. There are turkey and sweet potato meatballs, breakfast bowls with eggs and pork, and even "beer" made from bone broth.
A path out back is perfect for strolling with your dogs by your side during sunny days. Or let them roam free; the whole area is fenced in, so mutts can mingle on and around several different structures and agility obstacles while you get your steps in worry-free.
Beyond playtime, Paws & Pints offers on-site grooming services, doggy day care and boarding through their Mo'tail & Spaw. Give your dog a whole spa weekend with boarding and grooming packages, or make a quick trip for a simple "pawdicure" and shampoo treatment.
On your way out, stop at the Bonetique to shop for your pup or yourself. They sell their special bloody mary mix here, along with housemade single-ingredient jerky treats.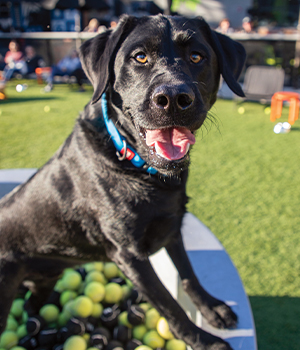 Brooks, black lab, at Paws & Pints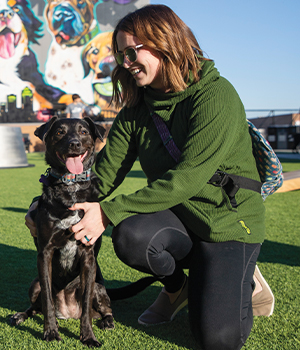 Courtney Conrad with Ari, heeler mix, at Paws & Pints
---
Pooch-Friendly Patios
Add these pet-friendly spots to your summer bucket list.
Walkable downtown. Pets are welcome at a number of downtown patios, including the 12,000-square-foot Big Grove Brewery & Taproom. For more spots to sit and stay, stop by Tupelo Honey, Exile Brewing, Lua Brewing or the courtyard at the Surety Hotel.
Fun play spots. Let the pup roam in the yard at Smash Park on Thursdays and Sundays (leashes required). Kinship Brewing Co. in Waukee has a dog park, too, as well as a patio for more laid-back companions.
Drive-through treats. No summer would be complete without a free puppy cone from Snookie's Malt Shop in Beaverdale. And Starbucks fans: You can order a free Puppuccino, a small cup of whipped cream.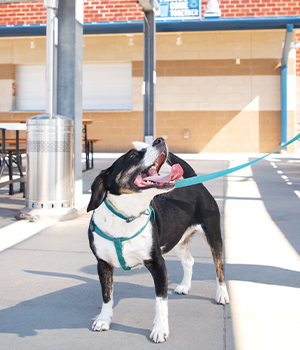 Leo, beagle mix
Knox, mini Bernedoodle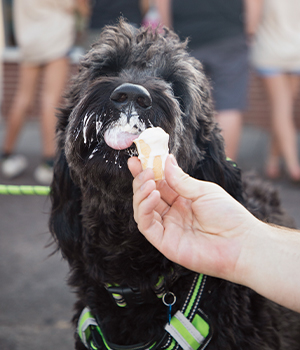 Bear, Goldendoodle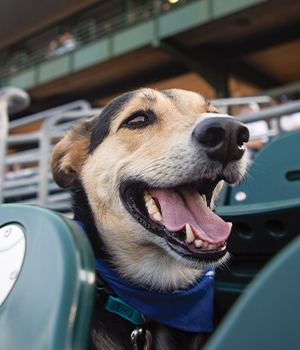 Cane, royal Bahamian
---
Nature Calls
Adventurous dogs love trekking on trails and splashing in waterways. Kami Rankin with Polk County Conservation suggested exploring the following parks — with a leash unless otherwise noted.
Brown's Woods: Just off 63rd Street in West Des Moines, the woodsy state park offers one of the best long hikes in the area, with a hilly 4-mile loop. The canopy shades pups and humans even on the hottest days, but we recommend bringing water and a collapsible bowl.
Chichaqua Bottoms Greenbelt: Let your pup off-leash at the huge dog training area, where you might see canines learn agility or hunting techniques. Retrievers and other water lovers can swim here, and adventurous types can make their own path through the prairie. "It's a phenomenal place to let your dog go," Rankin said.
Easter Lake: The mostly flat, 4-mile loop trail around the lake is popular with pets and their walkers, and it's good for an easy workout. Plus, there are dog waystations.
Greenwood Park and Denman's Woods: The network of wooded trails that follows Walnut Creek south of the Des Moines Art Center has a diverse terrain that attracts mountain bikers as well as dogs and owners who like to explore narrow paths with obstacles such as trees, hills and wooden bridges.
Raccoon River Park: With a flat, easy 3-mile trail around Blue Heron Lake in West Des Moines, this park is a favorite for pets with retractable leashes — it's easy to stretch out and explore while following the rules. Dogs who love water can dive off from the boat dock or try paddleboarding. (Rentals allow dogs as long as you clean up any messes.) If your pooch wants to play off-leash, there's a fenced 10-acre dog park.
Bruno, mini Australian shepherd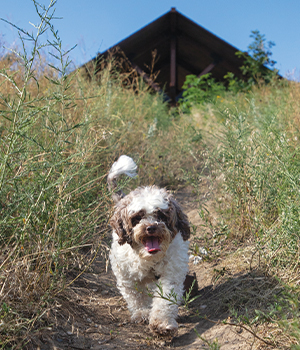 Oliver, Maltipoo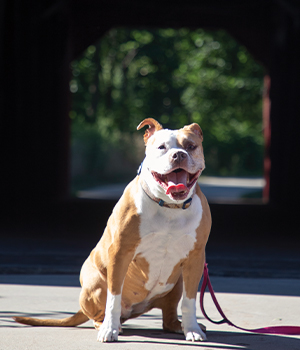 Ruby, American Staffordshire terrier mix
---
Mastering the Pet Market
Discover what we found (and purchased) at all four of these locally owned business. Plus, hear what our pet tester, Kona, received for swag.
Bon-a-Patreat
The local success story now has four locations throughout the metro. Shop for everything your pooch might need, including a real-life looking squirrel and bunny plushies.
What we bought: An indestructible chicken toy and GivePet grain-free treats flavored with salmon and sweet potatoes—the company donates proceeds to shelter animals.
Jett & Monkey's
The East Village mainstay is a go-to for gifts for new pet owners plus toys, leashes, treats and more.
What we bought: A new highlighter yellow collar made from recycled bike tires plus a funky patterned leash. Bonus, both have built-in bottle openers for a quick cold one after a hike.
Just Paws! Gourmet & Gifts
The Merle Hay Mall store dresses you, your dog and even your Christmas tree—find socks and ornaments that speak your favorite breed, plus t-shirts, pet costumes and more. Locally made products include bowties, bandanas, bows and pet beds. Gourmet cookies made in Coralville are a tasty takeaway.
What we bought: No frosted treats for Kona; he's on a strict weight-loss plan. His gift was a puzzle bowl for his food (during production of this story he's lost 6 pounds).
Petsakes Pet SupplyLocated on Euclid, the shop sells high-quality foods, toys, plus sophisticated leather leashes that might just match your favorite handbag (we found an aqua one to match our summer clutch).
What we bought: Bulk dog treats in tasty flavors such as peanut butter and blueberry; they're a steal at less than $2 a pound. Plus, natural shampoo with oatmeal and tea tree that washed Kona a fresh fragrance.
---
Area Makers
These area entrepreneurs are owning the dog business.
Bozz Prints
The graphic design retailer in Valley Junction prints hip dog and cat t-shirts plus stickers and magnets professing pet love.
Pawsitively Delish Treats
Based in Beaverdale, the online business specializes in custom pet food and also offers modern dog beds, pet apparel and toys.
Primp My PetOwner Jo Ann Kamber sews the bandanas, bowties and bows you'll find at Just Paws in Merle Hay Mall. She'll accept custom orders in the fabric of your choice in case you're planning a special formal occasion such as a wedding.
---
Want to see more dogs? View the outtake photos below.